Regular price
Sale price
$98.00 SGD
Unit price
per
Sale
Sold out
The best fresh premium concentrated bird's nest, double-boiled with Rock Sugar or Ginseng and Wolfberries. Free delivery within Singapore is included!
Share
FREE delivery within Singapore
1 pot contains 10g of our best premium bird's nest and can serve up to 2 to 3 people. Lasts up to 5 to 6 days if placed in the refrigerator.
Please order at least 1 day in advance.
**Pregnant mums are to consult with their respective gynaecologists before consumption.
View full details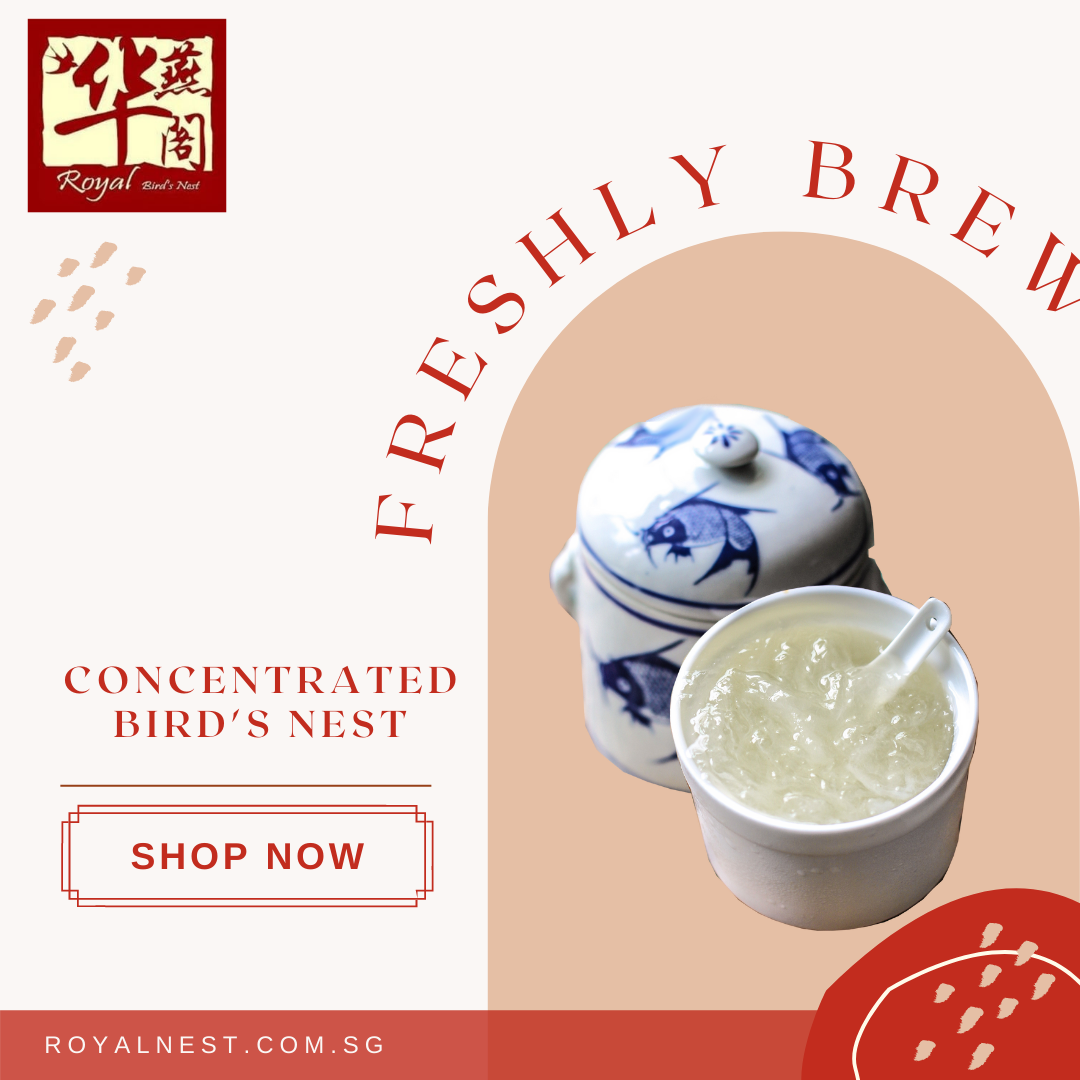 FAQs
How quickly must we consume the pot of bird's nest?

As our pot of bird's nest is cooked fresh daily, we recommend you consume the pot as
quickly as possible to receive the utmost nutritional benefits. If you plan on storing it,
keep it in the refrigerator for up to 5 or 6 days.
How much serving is per pot?

1 pot contains 10g of premium concentrated bird's nest, which can serve up to 2 to 3
people.
Is Your Bird's Nest Freshly Brewed?

Yes, every single batch of our best Fresh Premium Double-Boiled Bird's Nest With Rock
Sugar is cooked fresh on the day of delivery.
Who Should Consume Bird's Nest?
Everyone can take bird's nests without any complications. As bird's nest has been around for many years, its nutritional benefits are well-demonstrated and have expanded from traditional Chinese medicine. 
Men can consume bird's nests to promote overall immunity, whereas women may find bird's nests to increase their collagen production, making their appearance more youthful, among many other benefits. Children should drink bird's nests as a supplement for healthy development, while the elderly can seek to take bird's nests to eliminate health problems. However, bird's nests are best consumed by pregnant women.
Benefits Of Consuming Bird's Nest During pregnancy
There are many benefits women can look forward to gaining when taking bird's nests during pregnancy. For starters, bird's nest is rich with nutrients, vitamins, and proteins, such as amino acids that relieve stress and anxiety and reduce stretch marks, as well as sialic acid to enhance the mental and cognitive development of the baby.
​​Bird's nest also contains calcium, an essential mineral that not only ensures a healthy bone mass for the mother but also develops the baby's entire body system. Due to its nourishing properties, bird's nest has long been recognised as a good supplement to take during pregnancy.
When Is A Good Time To Drink Bird's Nest During Pregnancy?
According to health professionals, the best time to drink bird's nests for pregnant and post-pregnant women should either be right after waking up in the morning and before heading to bed in the evening. This is because bird's nest should ideally be consumed on an empty stomach, allowing its nutritional properties to be fully absorbed by your body.
During the pregnancy period, women should start drinking bird's nests from the 4th month or 2nd trimester onwards.